Tactical Communication Development
Participate on prestigious projects
Join us
Excellence in Quality
We are developing tactical communication equipment for demanding customers. We are able to handle very challenging tasks in development of rugged hardware and secure software.
We are proud of the fact that our R&D results offer the highest grade of quality compared with the same class of equipment used around the world.


A Highly Functioning Team is a Guarantee of Success
We have got an expert team of developers with years of experience in tactical radiocommunication R&D. We are part of a German-Czech international development team, which provides us with a great opportunity to cooperate on unique world-recognized projects. We share an ambition to be the best in the industry.

Big project in Asia
Earlier this year, a team of DICOM staff participated in large-scale military trials in an Asian country. These trials were part of the decision-making process in a complex tender to upgrade tactical communications systems.
The course of the trials was extremely intense, with hundreds of tests over a fortnight in a variety of environments, configurations, terrain and climatic conditions, involving dozens of people and several tonnes of equipment. Our radios have operated in mountainous terrain, seashores, through urban developments, inside buildings, through jungles, and have been installed on vehicles, aircraft and naval vessels. Open and encrypted voice communications, data communications, long distance interlinks using multi-hop microwave networks, large-scale MANETs, interoperability tests with legacy equipment, and laboratory tests including water tightness, power output, and purity of the frequency spectrum have been tested.
The tests were very successful, with the vast majority of the operational requirements set by the user being met by our radios, plus it was a great experience and another great opportunity for us to validate the capabilities of our radios in difficult operating conditions.
New RF40 Radio Software Release
Intensive operational tests of the RF40 tactical radio new software Release Version 2.2 were performed in the third week of January.
Testing took place in harsh winter conditions in difficult terrain of localities around Uherské Hradiště, Czech Republic where DICOM is headquartered.
The new radio software release implements new useful features and services, such as 10 W RF Power Output, configuration with MP40 Mission Planner Software, IP interconnection between different voice networks using RTP (Real-Time Transfer Protocol), PRC40 protocol for radio remote control via IP, Over-the-Air Zeroize (OTAZ) function for remote erasure of radio, Packet Filter to filter-out the unnecessary data packets in the IP interface, various changes in Man-Machine Interface and many other.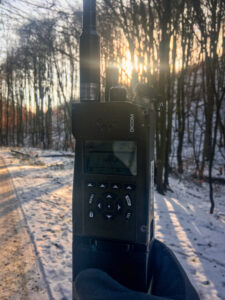 Rohde & Schwarz and MESIT jointly invest in secure communications solutions and form DICOM
"Many defence forces around the world use cutting-edge solutions from Rohde & Schwarz. We are looking forward to expanding our presence in the Czech Republic. This new JV will create new technological advances, allowing us to provide digital sovereignty to our customers,"
Bosco Novak,
Executive Vice President of Rohde & Schwarz Secure Communications Division
Praha, München, 18 September 2019 – Rohde & Schwarz and MESIT have established a new joint venture (JV) with MESIT as the majority shareholder. The strategic purpose is to further enhance the trusted, interoperable SOVERON communications system. SOVERON stands for fully integrated, high-performance and scalable trusted communications solutions for all branches of the armed forces. SOVERON strengthens customers digital sovereignty and gives them the greatest possible independence from manufacturers.
The JV is named DICOM, s.r.o. and has commercial operations in Uherské Hradiště in the Czech Republic. DICOM will perform advanced research and development (R&D). It will initially focus on the new SOVERON lightweight handheld software defined radio (SDR) with networking and multiband capability in the UHF/VHF frequency range.
"We are delighted with this joint investment. The creation of DICOM allows both partner companies to accelerate the development and production of the SOVERON product portfolio. With this JV, the Czech Republic becomes the fourth country in which Rohde & Schwarz is represented in sales, service (Prague), manufacturing (Vimperk) and R&D (Uherské Hradiště)," explains Pavel Šalanda, Managing Director at DICOM.
"MESIT and Rohde & Schwarz have already successfully co-operated in the past. Now we are taking the next logical step by joining forces in R&D to take full advantage of our joint capacities. Together we will be able to successfully address new markets," adds Igor Gerek, Managing Director at DICOM and Deputy Charmain of the Board at MESIT.